Goal-oriented marketing expert with natural talents in developing and implementing successful strategies, driving profits, increasing market shares and strengthening customer dominance. Hardworking, performance-oriented leader offering proven expertise in project development, team supervision and campaign enhancement. Prepared to bring 10+ years of progressive experience and take on challenging position with opportunity to make lasting impact on company and customer success.
Brand Development
Project Management
Strategy Development
Market Analysis
Market Positioning
Staff Management
Social Media Proficiency
Thought Leadership
I build websites on WordPress, Shopify, Wix and SquareSpace.
My photos are edited on 

Adobe Lightroom, 

Adobe Photoshop.

I shoot videos on Canon M50 and are edited on Adobe Premiere Pro or Lumafusion.

Presentations are made on Keynote or PowerPoint.
June 2022 – Current
Reka Studio, Singapore, SG
April 2021 – Current
Guided Hustle, Singapore, SG
March 2022 – June 2022
MIJ Hub, Singapore, SG
April 2021 – March 2022
Asia Plantation Capital, Singapore, SG
Conceptualized brand identity and developed unique accompanying
graphic style and tone for use in communications
Planned, implemented and tracked sales and marketing strategies
Developed innovative marketing campaigns based on key objectives
Jan 2020 – May 2021
Neu Entity, Singapore
Worked with Founder to sustain and grow agency's clientele and team
Worked with leadership to strategize and introduce office initiatives
Oversaw agency's day-to-day administrative operations, provided
guidance to support staff and enforced compliance
Oct 2018 – Jan 2020
Neu Entity, Singapore
Performed high-quality business strategies and plans ensuring their
alignment with short-term and long-term objectives
Coached and guided managers to improve effectiveness and policy
enforcement, resulting in improved employee job satisfaction and higher
performance levels
Review financial and non-financial reports to devise solutions or
improvements
Analyze problematic situations and occurrences and provide solutions to
ensure agency survival and growth
Apr 2017 – Sept 2018
Neu Entity, Singapore
Plan and execute marketing strategy for agency and for new and existing
services
Spearheaded market research to identify branding opportunities, cement
strategies and sustain loyal customer base
Implemented marketing strategies which resulted in 100% growth of
customer base in local market
Boosted brand awareness and generated leads while managing internal
and external marketing campaigns and programs
Digital Marketing Manager
Jan 2016 – Mar 2017
ALQ Creative, Singapore
Brand strategic development, digital marketing plan and execution for B2B
& B2C
Administered marketing calendar and posted new content to coincide with
new product and service releases
Spearheaded client meetings to determine project needs and professional
requirements and identify correct course of action enhance client success
Hanafi was the CEO at Neu Entity when I joined and taught me quite a lot on Project Management and Client Acquisition. We've worked on many projects together and he's a true asset to the team. He's a team player who thinks on his feet and never settles for a no. His ambition and passion for what he does is uncanny, and it's been a pleasure to see his progress and grow more confident in his professional role over time. I thoroughly recommend him for any leadership or project management roles.
My role as a Creative Consultant was a sudden to me as I've only had experience as a Graphic Designer. The jump was drastic for me however under the guidance of Hanafi, I was trained and onboarded into the role seamlessly. He gave words of confidence and clarity as one would need from a Senior and a Leader. Hanafi sees the best potential in everyone and he has a talent in drawing it out. The best lesson I've learn is to experiment and experience to find the best solution and to empathise with our clients to provide the best for them. It was a great time to be working under Hanafi and with him.
I engaged Hanafi's company Neu Entity three years ago to work on my brand. The company assigned Hanafi to work as a project manager for my company. I recall that throughout the engagement, Hanafi communicated well and was extremely helpful, always being able to attend to my requests in developing the brand. While this may be expected from a typical client-company relationship, what left a greatly positive impression was Hanafi's ability to suggest concrete, implementable, and effective ideas for branding that were highly aligned to my company's requirements. This was all the more impressive given that Hanafi is neither from my industry, nor did he have any prior experience in the specific education sector that I was in, yet he was able to learn quickly and get himself and his team up to speed in providing the best possible service to me, and for my company's branding needs. I wish him the best in his future endeavours, and I believe he would be successful in contributing effectively to any job he is applying for.
My search for an objective point-of-view that is customised to my needs ended when I approached Hanafi for his business coaching sessions. In just a few weeks, he has successfully helped me untangle the messy weeds that have grown due to my lack of confidence, organisation, and forward planning. I now understand my approach to my business better and I know what to expect out of my work in the foreseeable future. I'm confident that I'll gain much more clarity as time passes thanks to Hanafi's guidance and reassurance.
Hanafi has been a really great mentor. Like legit hahaha! I have known him since January 2019, and ever since then, he has been guiding me and we stayed in contact till now. I went on to get mentored by him more seriously and alhamdulillah, I have learnt a lot from him, like no kidding! He guided me and ensured that I do things properly. I can sometimes be a bit hard to understand some things so he made sure I understand everything properly before proceeding forward. He answers my questions clearly and if I am still in doubt, he will not hesitate to clarify for me further. Without Hanafi, I don't think I will be where I am today in terms of my entrepreneurship journey! I would like to thank him for everything he has done for me since 2019!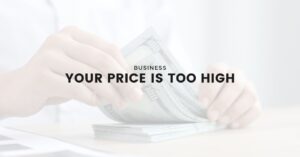 People who say your fees are too high are often just looking for an excuse to avoid doing business with you. But, if you can
Read More »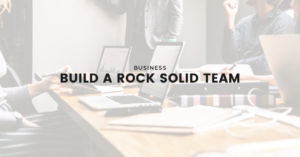 It can be a challenge to recruit and retain the best talent when your team is already stretched thin. But, there are plenty of strategies
Read More »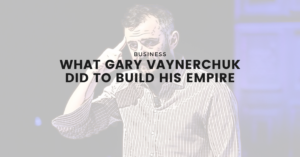 Gary Vaynerchuk is a wildly popular author, business guru, entrepreneur and TV personality. As the founder of a digital media company, VaynerMedia, and an early
Read More »
Launch and Learn.
Everything is Progress.